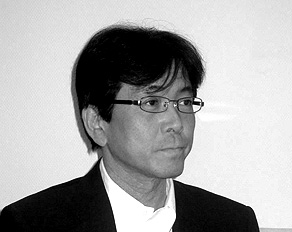 Prof. Masahiro Shimoda, University of Tokyo
Department of Indian Philosophy and Buddhist Studies/Center for Evolving Humanities, Graduate School of Humanities and Sociology, the University of Tokyo

Plenary Closing session, Lecture Hall A
Friday 20 July, 16:00-17:00
Introduction by Harold Short, King's College London
Embracing a Distant View of the Digital Humanities
How should cultures transmit what they believe to be of vital importance from their own culture in its period of decline to another culture on the rise? This question, taken as one of the most challenging by contemporary historians, might well be posed themselves by DH scholars for the purpose of recognizing the magnitude of the problem they have been confronting and the significance of the endeavor they have been undertaking in the domain of the humanities. The variety of efforts that cannot but be included with the aims of each individual project, when combined together in a single arena such as DH2012, will in the end be found to have been dedicated to the larger project of the constructing of "another culture on the rise" on a global scale in this age of drastic transformation of the medium of knowledge. To keep this sort of "distant view" of DH in mind, while it seems to have no immediate, sensible influence on our day-to-day "close views," though, would be inevitable. Inevitable not only in the making of untiring efforts to improve research environments amidst bewildering changes of technologies, but also in positively inviting new, unknown, unprecedented enterprises into the domain of DH. DH in its diverse forms should therefore assimilate into its identity the ostensively incommensurate aspects of steadfastness and flexibility. Among the numerous approaches that might be taken for understanding this peculiar identity of DH, I would like to demonstrate the significance of Digital Humanities research of Buddhist scriptures appropriately placed in the longer view of the history of the humanities.
Biography
Masahiro Shimoda is a Professor in Indian Philosophy and Buddhist Studies with a cross appointment in the Digital Humanities Section of the Center for Evolving Humanities at the University of Tokyo. He has been Visiting Professor at the School of Oriental and African Studies, University College London (2006), Visiting Professor at Stanford University (2010), and is presently Visiting Research Fellow at University of Virginia (2012). He is the president of Japanese Association for Digital Humanities established last September (2011), and the chair of the trans-school program of Digital Humanities at the University of Tokyo, which has started on the 1st April 2012 in the collaborative program among the Graduate School of Interdisciplinary Information Studies, the Graduate School of Humanities and Sociology, and the Center for Structuring Knowledge. As his main project, Shimoda has launched since 2010 with government granted budget "the construction of academic Buddhist knowledge base in international alliance." This multi-nodal project, comprising seven major projects of self-financed agencies (Indo-Tibetan Lexical Resources at University of Hamburg, Hobogirin project at École Français d'Étrême Orient, Pali Text Compilation Project at Dhammacai Institute in Thai, Digital Dictionary of Buddhism in Tokyo etc.) with SAT (Chinese Buddhist Text Corpus Project at the University of Tokyo) placed as their hub, aims at providing a variety of research resources for Buddhist studies such as the primary sources, secondary resources, catalogues, dictionaries, lexicons and translations, all databases interlinked to each other at a deep structural level.

Prof. Claudine Moulin, University of Trier
Trier Centre for Digital Humanities, University of Trier
Plenary Opening session, Lecture Hall A
Tuesday 17 July, 18:00-19:00
Introduction by Gerhard Lauer, Göttingen University
Dynamics and diversity: exploring European and transnational perspectives on digital humanities research infrastructures
In my talk I would like to reflect on Digital Humanities and Research infrastructures from an international and interdisciplinary perspective. Preserving and documenting cultural and linguistic variety is not only one of the most important challenges linked to the development and future impact of Digital Humanities on scholarly work and methodologies, it is also one of the key elements to be considered in the field of policy making and research funding at the European and international level. I will explore this by reflecting on Digital Humanities and its outcomes from the perspectives of cultural history and linguistic and interdisciplinary diversity; I will also tackle key questions related to building multi-level inter- and transdisciplinary projects and transnational research infrastructures. In addition to considering how Digital Humanities can extend and transform existing scholarly practice I will also consider how it is fostering the emergence of new cultural practices that look beyond established academic circles, for example, interactions between Digital Humanities and works of art.
Biography
Claudine Moulin studied German and English philology in Brussels and Bamberg, receiving post-doctoral research grants for manuscript studies in Oxford. She was a Heisenberg fellow of the Deutsche Forschungsgemeinschaft (DFG); since 2003 she holds the chair for German Philology/ Historical Linguistics at the University of Trier/Germany and is the Scientific Director of the Trier Centre for Digital Humanities. She has published monographs and articles in the domain of text editing, digital lexicography, glossography, historical linguistics, and manuscript and annotation studies. She is a founding member of the Historisch-Kulturwissenschaftliches Forschungszentrum (HKFZ Trier). She is a member of the Standing Committee for the Humanities of the European Science Foundation (ESF) and speaker of the ESF-Expert Group on Research Infrastructures in the Humanities. She was recipient of the Academy Award of Rhineland-Palatinate in 2010, Academy of Sciences and Literature, Mainz. C. Moulin is co-editor of the linguistic journal "Sprachwissenschaft" and of the series "Germanistische Bibliothek"; together with Julianne Nyhan and Arianna Ciula (et al.) she has published in 2011 the ESF-Science Policy Briefing on Research Infrastructures in the Humanities.