The "Freie und Hansestadt Hamburg" is a federal province in its own right. Situated 100 km inland from the North Sea on the river Elbe its harbour is the 3rd largest in Europe. Hamburg is surrounded by water and has more bridges than Venice and Amsterdam combined, which is why the city has also been named the "Venice of the North". A multitude of theatres, museums and Hamburg's new iconic music hall, the Elbphilharmonie, testify to Hamburg's status as a leading cultural center.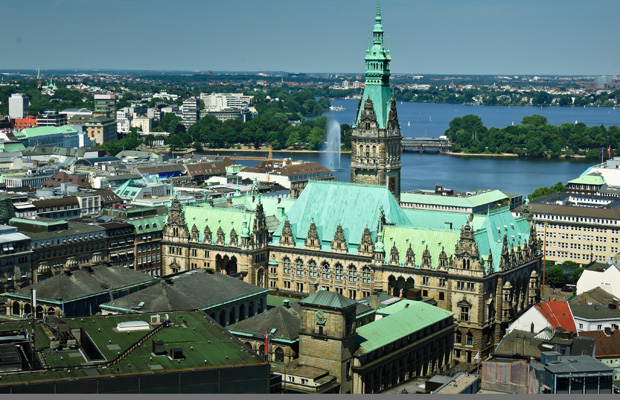 a gateway to the world
1.8 million inhabitants within the city limits make the old Hanseatic merchant city Germany's second largest metropole. Hamburg is characterized by its international orientation and diversity. As Germany's so-called "gateway to the world" it is the city with the highest number of consulates and a home to many people from all over the world.
tourism
Hamburg boasts 31 theatres, 6 music halls, 10 cabarets and 50 state and private museums. The banks of the Elbe and the Alster rivers are perfect for a stroll. The port sight-seeing trips are impressive and offer a special perspective on the panorama of Hamburg. Right in the heart of the city, there is a large lake: the Alster. A boat tour on the Alster ends in the city centre, where one can shop or simply relax in a street café. Hamburg's modern busses and underground trains (S-Bahn) will take you anywhere fast and for a small fare.
The area around Hamburg is especially delightful. The fruit-growing area of the "Altes Land" with its old farmhouses is especially suited for excursions by bus or on bicycle. The historic old towns of Stade and Lüneburg can be reached in half an hour, and a trip to Lübeck or the beach on the Baltic Sea takes only one hour by car.